MBA in Australia – Australia is one of the top study abroad destinations for international students. According to the QS world rankings, it is among the top 5 study destinations for international students who want to pursue an MBA abroad. In order to study MBA in Australia, an international applicant needs to have completed 3 or 4-year long bachelor's degree with a minimum score of 60%. He/she also needs to have a few years of managerial work experience. Besides these entry requirements, most of the management schools require GMAT scores. Pursuing an MBA from Australia will definitely boost career prospects for international students.
In this article, you will be able to explore every detail on top universities for MBA, MBA admission timeline, course fees, documents to apply for MBA programs, scholarships to support expensive MBA programs and much more.
MBA in Australia – Why pursue MBA in Australia?
MBA aspirants should ask the following questions before deciding to pursue an MBA from Australia.
What will the course content be? Are the courses similar in all the universities applied for? This kind of analysis prepares you beforehand and stops you from submitting random university application.

Are they taking student loans? How are they going to repay them?

Are they looking to find a good job after pursuing the course?

Are they looking to study and settle abroad? Are they willing to return home after completing their MBA?
Being able to gather knowledge by answering these valuable questions will help study abroad aspirants to apply for suitable MBA colleges, get ready with documents and certifications, making arrangements for financial aid or loans, and also be able to find good jobs after completing the degree (a smart investment on college degree can increase the overall ROI).

MBA in Australia – Top MBA colleges in Australia
Out of the top 30 institutions in Asia Pacific, 12 are from Australia. There a total of 17 business schools in Australia that feature in the latest QS world rankings. Melbourne Business School and Sydney's AGSM holds the top two places in Australia based on research excellence and employability. Based on employability, the rankings of top 5 MBA schools in Australia are shown in the table given below.
List of top MBA colleges in Australia
| | | |
| --- | --- | --- |
| Ranking   | University  | Location |
| 1 | AGSM University of New South Wales | Sydney, New South Wales |
| 2 | Melbourne Business School | Melbourne, Victoria |
| 3 | UTS Business School, University of Technology, Sydney | Sydney, New South Wales |
| 4 | UQ Business School, University of Queensland | Brisbane, Queensland |
| 5 | Macquarie Graduate School of Management | Sydney, New South Wales |
MBA in Australia – Other MBA Schools 
You can find out the

current 2019-20 MBA/Management courses

intakes, fees, scholarships etc information for the following Australian universities:
For more Australian Universities where you can pursue MBA or Management courses visit the Management Courses in Australia page here.
MBA in Australia – Best MBA Courses in Australia
Here we have listed some of the best MBA courses in Australia:
Accounting
Accounting and Finance
Information Technology
International Business
Innovation and Entrepreneurship
Banking
Finance
Sports Management
Hospitality Management
Human Resources Management
MBA in Australia – Eligibility Criteria
The following eligibility criteria has to be adhered to by the applicants:
Australian MBA programs accept 3-year Bachelor's degree like B.Sc or B.Com.

Aspirants need to have a minimum of 2-3 years of work experience before applying for an MBA program abroad.

GMAT is accepted and recommended by many universities.

Applicants have to have either IELTS or TOEFL score for admission to an MBA program. This is required in all management schools in Australia.
MBA in Australia – MBA admission timeline
MBA admission timeline falls between October to December of the current year. The students are advised to be prepared with the admission requirements before the deadline. They can shortlist 5-10 universities that they want to apply into. They should apply for scholarships or arrange for loans, if required, to fund their studies. By the next year's Jan-April, the applicants should appear for English proficiency exams like TOEFL or IELTS and management entrance tests such as the GMAT and get ready with the test scores. From April-May next year, shortlist the colleges you want to apply for and also contact your previous employers/teachers and ask for 2-3 recommendation letters.
Rank 1 college in Australia for MBA – University of New South Wales offers AGSM Business Full-Time MBA which is a world-class level programme. It ranks high for salary potential, career progression, international student experience, etc. The following table shows MBA program duration and course fees.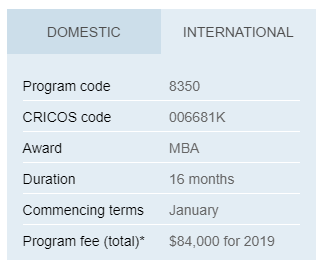 The program fee for international students was AUD 84,000 for 2019 session. The admission timelines for 2019 session is shown in the table below.
Q. Is an MBA worth in Australia?
A. The MBA market is worth AUD 500 million and a large number of international students are currently studying at more than 30 Australian schools. The average MBA program in Australia costs about AUD 47,500. "Asia is setting the benchmark for what a great MBA could be" said by MBA News Australia founder Ben Ready. It is worth studying in Australia for your MBA.
Updated Admission Timelines at AGSM for 2020 Session
AGSM MBA Program: Admissions Schedule 2020
 Rounds

Summer 2021 intake 

Application Deadline

Offer sent out

Offer acceptance deadline
1
1 May
30 May
30 June
2
1 June
30 June
30 July
3
1 July
30 July
30 August
4
1 August
30 August
30 September
5
1 September
30 September
30 October
6*
1 October
30 October
30 November
7
(Domestic only)
30 October
15 November
15 December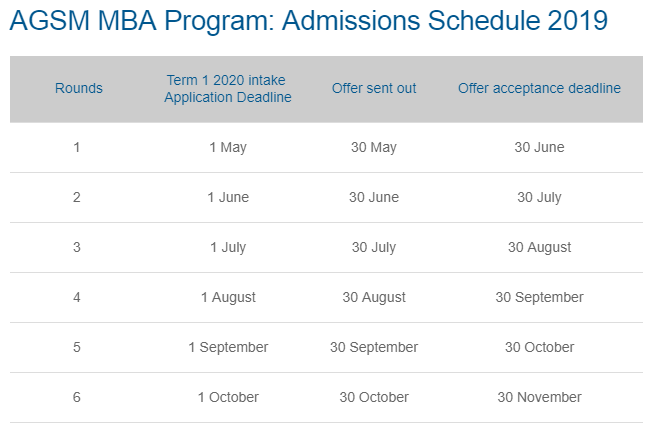 Source: AGSM, University of New South Wales
International students are advised to apply before the 4th deadline. They can go to this link to start an application. 
MBA applicants should provide the following documents during the application process:
Academic transcripts

CV

Referee reports

Proof of identity

GMAT Official Score Report

Video Interview 

English language certificate
MBA in Australia – MBA Cost and Post MBA Job Salary
The following table shows the current MBA fees which international students have to pay for pursuing MBA programs.
| | |
| --- | --- |
| Top University  | MBA course fees  |
| AGSM University of New South Wales | AUD 84,000 |
| Melbourne Business School | AUD 89,500 |
| UTS Business School, University of Technology, Sydney | AUD 79,872 |
| UQ Business School, University of Queensland | AUD 76,584 |
| Macquarie Graduate School of Management | AUD 80,000 |
The cost of an MBA degree has increased by more than 5% recently in top Australian universities. MBA aspirants have to always consider the following factors such as course fees, accommodation, travel expenses, and research for the project work when applying for an MBA.
There are a number of job opportunities available in Australia after completing an MBA degree such as:
Account Executive

Business consultant

Business development manager

Finance manager

General manager

Sales Manager

Program manager

Product manager

Operations manager

Marketing manager

Industry specialist manager

Entrepreneur
MBA in Australia – MBA Scholarships 
UQ Business School offers 25% tuition-fee waiver scholarships (14) to outstanding students commencing the MBA program. The faculty of business and law at Deakin university offers 50 scholarships to international students for MBA programs and around 20% fees are reduced. University of Adelaide offers a range of MBA scholarships in which 10-50% of the course fees are waived off. Macquarie University and UWA Business School also offer top MBA scholarship programs which can waive off up to 25% course fees.
MBA in Australia – Student Visa for Australia 
MBA aspirants who wish to undertake full-time registered course of study in Australia need to obtain a Student Visa. A Student Visa permits the holder to travel to, enter and remain in Australia for the duration of the registered course of study. They must complete an application form 157W which is available free of charge from the Australian High Commission. The application will be judged based on the proof of enrollment, financial resources, academic qualification, purpose of pursuing the degree, etc. It takes around 4-6 weeks for the processing of the application.

MBA in Australia – FAQ
Q. How much it costs to do an MBA in Australia?
A. The top 5 MBA schools in Australia offer MBA programs costing up to AUD 90,000.
Q. Is GMAT mandatory for MBA in Australia?
A. GMAT scores are not always necessary for admission into Australian business schools. The GMAT test score is valid for up to 5 years and aspirants can register for GMAT as and when required.
Q. What is the best MBA course in Australia?
A. Some of the top MBA courses can be pursued in the following colleges in Australia:
1. MGSM Macquarie Graduate School of Management
2. Melbourne Business School (MBS)
3. University of New South Wales (UNSW) - Australian Graduate School of Management (AGSM)
4. University of Sydney
5. The University of Adelaide - Adelaide Graduate School of Business (AGSB)
6. University of South Australia (UniSA) - Business School