Cost of Living in Australia for the immigrants depends on various factors such as size of family, city, size of relocation, individual lifestyle, food and commuting habits, etc. The monthly cost of living will depend on house rent, groceries, transportation, insurance, and utilities. Considering all the factors, an average cost of living in Australia is approx. AUD 35-40 K. Cost of living in Australia is a highly searched query on the internet as a large number of Indian students get admission in Australian universities and hence, they would definitely need to know about tuition fees and living costs.

Australia is considered to be one of the top destinations to study abroad but it comes with a high price. The below HSBC based report shows that Australia is at the top of the 5 countries in terms of highly expensive countries. It is not only based on the comparison of the average tuition fees in the 10 largest universities in each country but it also takes into account the average cost of living in the cities where the best universities of each country are located.*
Top 5 Most Expensive Countries to Study Abroad
*Source: April International
Cost of Living in Australia – General Costs*
Australia offers a diverse range of study options for international students, with more than 1,200 institutions and over 22,000 courses to choose from. Their world-class education system pulls international students to this country in hordes. The cost of living in Australia is comparatively higher than that of the US, UK and Canada, but it is still one of the favourite destinations for study abroad among Indian students. Australia offers a wide range of subjects at various study levels, i.e., from primary and secondary level to graduate, post-graduate and PhD levels. However, before applying to an Australian educational institution, international students must know that the cost of living varies from city to city. Cities like Sydney, Melbourne and Brisbane might be costlier than the other Australian cities. The students must prepare their financial plan with careful research so as to avoid spending more than what would be beneficial for them.
In this article, we will discuss the generic costs associated with living and studying in Australia. Here, you will find the city-wise living costs based on which you can prepare your financial planner for studying in Australia. Highlighted below are the costs of accommodation and other living expenses.
Accommodation
Hostels and Guesthouses -AUD 90 to AUD 150 per week
Shared Rental – AUD 95 to AUD 215 per week
On campus – AUD 110 to AUD 280 per week
Homestay – AUD 235 to AUD 325 per week
Rental – AUD 185 to AUD 440 per week
Boarding schools – AUD 11,000 to AUD 22,000 per year
Other Living Expenses
Groceries and eating out – AUD 140 to AUD 280 per week
Gas, electricity – AUD 10 to AUD 20 per week
Phone and Internet – AUD 15 to AUD 30 per week
Public transport – AUD 30 to AUD 60 per week
Car (after purchase) – AUD 150 to AUD 260 per week
Entertainment – AUD 80 to AUD 150 per week
Minimum Cost of Living
The Department of Home Affairs has financial requirements that one must meet in order to receive a student visa from Australia. From October 2019, the 12-month living cost is:
Applicant – AUD 21,041
Partner or spouse – AUD 7,362
Child – AUD 3,152
*Source: Data from Australian Trade and Investment Commission
Cost of Living in Australia – Living cost in Top 3 Expensive Cities  
Average Prices (AUD) in Sydney, Australia
Rent: 2299.20
Groceries: Milk per gallon 5.55, Bread 2.56, Chicken per pound 4.57
Eating out per person: 15 – 30
Transportation: Monthly Pass 180, Gas 5.11 /gallon
Monthly living: 3000
Average Prices (AUD) in Brisbane, Australia
Rent: 1457.37
Groceries: Milk per gallon 4.95, Bread 2 Chicken Breasts (per pound) 4.53
Eating Out per person: 17 – 30
Transportation: Monthly Pass 150, Gallon of Gas 5.24
Fun: Movie Ticket 14, Cappuccino 4.62
Monthly Living: 1900
Average Prices (AUD) in Melbourne, Australia
Rent: 1527.21
Groceries: Milk per gallon 4.93, Bread 2.46, Chicken Breasts (per pound) 4.45
Eating Out per person: 15 – 30
Transportation: Monthly Pass 147, Gallon of Gas 5.16
Fun: Movie Ticket 19, Cappuccino 4.23

Monthly living: 2100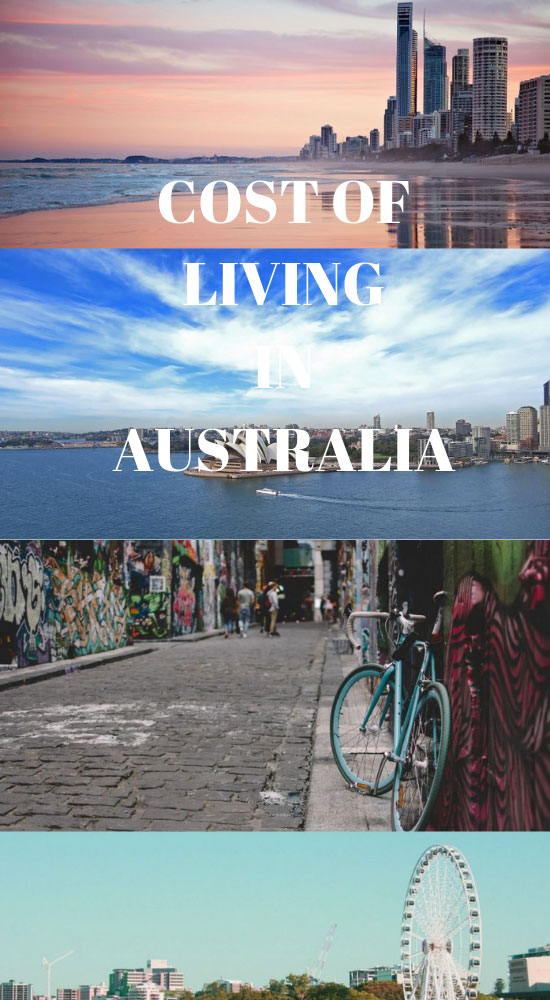 Cost of living in Australia – Tips on getting the best value to study abroad
Research ahead of time. Questions like 'Can you apply for a scholarship or funding that will support you through university?' and many other questions need to be answered before applying for admissions.
Set up a currency tracker to monitor rates which will alert students to the best time to buy currency. This also helps parents who are sending money on their children's behalf to overseas.
How to manage the day to day spending? – It is advised to have a prepaid currency card that one can top-up at any time and use for free in shops, restaurants, etc.
Research and plan before opening a bank account abroad.
Most of the international students in Australia are full-fee paying students, but they may also choose to apply for a scholarship. Scholarships in Australia are offered by the Australian government, education institutions, and a variety of other organizations. They cover vocational education and training, student exchanges, and undergraduate and postgraduate study and research.