Yale University is a private research university and a member of the prestigious Ivy League in the United States. It is situated in New Haven, Connecticut. It has about 13,433 students – 5,964 undergraduates and 7,469 postgraduates and around 2,996 international students. Many notable alumni have graduated from this University that includes 61 Nobel laureates, 78 MacArthur Fellows, 247 Rhodes Scholars, 119 Marshall Scholars, 5 Fields Medalists and 3 Turing award winners. Five of the U.S. Presidents, including George W. Bush, Bill Clinton, George H.W. Bush, William Howard Taft and Gerald Ford, and a number of billionaires have been affiliated with the Yale University.  It is ranked 15 by QS World University Rankings and its courses – MBA, Business Management, Engineering and Technology are ranked among the top courses in the world.
In this article,  we will come to know about the top courses at Yale, interesting facts about the university, fees and eligibility to study at Yale, admission timeline for UG or PG courses and scholarships to support higher education in the University.
Yale University – Top Colleges
Yale is made up of Yale College, the Graduate School of Arts and Sciences and 12 professional schools. The professional schools include top-ranked Law School, School of Management, School of Medicine, School of Art and School of Nursing. The professional courses include Architecture, Art, Law, Management, Forestry and Environmental Sciences, Nursing, Public Health etc.
Yale University – Key facts about the University
Yale College currently has male enrollment of 2,902, female enrollment of 2,844 and 11% of it makes up for international students.

It is ranked 190th for research impact (citations per faculty member) and 224th in the world for percentage of international faculty members, and 249th for international students (as per University's data).

The majority of the international students come from these countries- Canada, China, Germany, India, South Korea, and the United Kingdom.

The Schools of Medicine and Arts & Sciences contains the maximum faculties compared to the other schools at Yale.

76% of courses at Yale enroll fewer than 20 students and 31% enroll fewer than 10.

66% of students participate in international study, research, and/or internships abroad.

50 foreign language courses are offered at Yale.

There are currently 500 active student organisations and 75 performance groups.

87% of undergraduates live on campus at Yale.
Yale University – Tuition Fees
At Yale, undergraduate fees for 2019-20 is USD 55,500 per annum. When accommodation and other expenses are accounted for, the total comes to about USD 75,925. Generally, students will have to consider the extra cost of securing health insurance. At graduate level, the fees depend on which graduate school the student is enrolled in. For example – at Yale's Graduate School of Arts and Sciences, fees for 2019-20 is USD 43,300 per annum, and living costs for a nine month period is estimated at USD 24,015.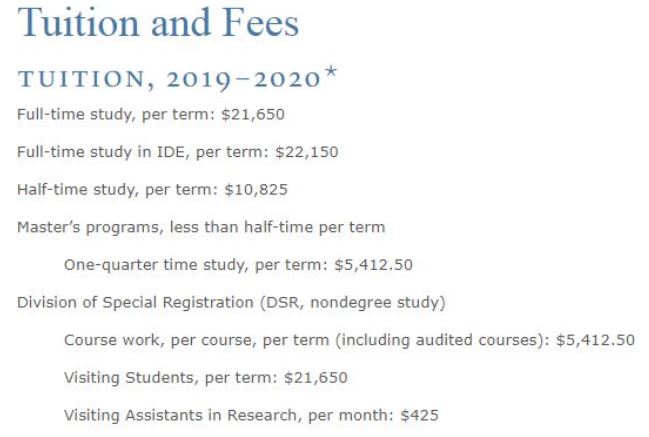 Living costs for PG students at Yale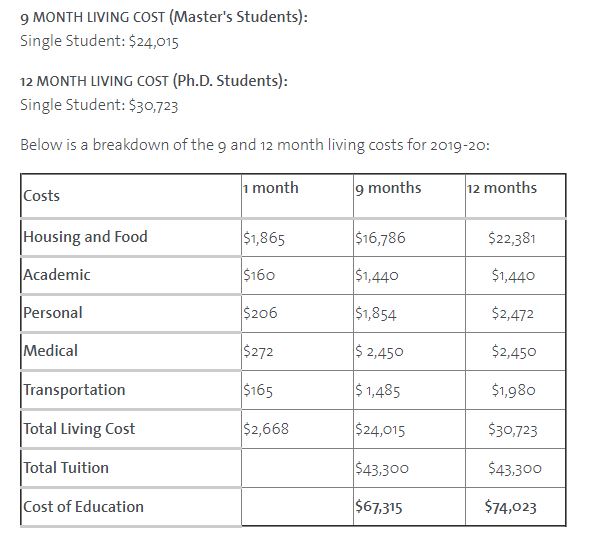 The students can find out detailed living cost details in the table to get prepared before applying for accomodation at Yale after being offered a place.
For more details, the students can click here
Yale University – Admission Timeline
Every applicant brings something unique to the admissions committee through their application. One application stands out because of sparkling recommendations, while another presents outstanding extracurricular talent and maybe personality shines through a powerful written voice, or maybe your keen mathematical mind makes more impact. The goal of the admission committee at Yale is to assemble a diverse, well-rounded student body, and that means admitting exceptional individuals of all types.
There are many courses at UG, undergraduate research, graduate and professional level and each course has its own pre-requisite for eligibility. International students who wish to apply for UG courses at Yale should visit the link here to apply for the same.  There are three ways to apply for the first-year admission at Yale. The aspirants should select the option that suits them.
The Coalition Application with Yale-Specific Questions (To create an account for application – visit

here

)

The Common Application with Yale-Specific Questions

The QuestBridge National College Match Application
To be considered at Yale, the students can apply directly to school, college or program where a degree is awarded.  They can apply at Yale College for undergraduate degrees, the Graduate School of Arts and Sciences for doctoral programs and master's degree or at one of the professional schools for those seeking a professional degree. Each program has its own procedures for admission and application process for financial assistance. The Coalition Application and Yale-specific questions is available by September 1 of current year.
The students should apply by the following deadlines for UG college admission at Yale:
yale-university-admission-timeline
Additional requirements while submitting application are:
USD 80 Application Fee

Two Teacher Recommendations

One Counselor Recommendation

School Report (including Transcript)

Standardized Test Results

Mid-Year Report
Graduate school admission at Yale has separate deadlines as mentioned below. Deadlines are applicable to PhD and Masters' degree applicants:
November 2019 – Fee waiver request

December 1, 2019

Biological and Biomedical Sciences (BBS)

Chemistry

Ecology and Evolutionary Biology

History of Art*

Nursing

Psychology

December 15, 2019 (various courses)

January 2, 2020 (various courses)
Different course fall under these deadlines. Students are advised to visit this link to check for their chosen course.
Yale University – Scholarships
There are many sources of support both at Yale and beyond campus for graduate students to conduct their research and to develop as professionals. One of the most popular scholarship support is GSAS Fellowships. There are 9 fellowships under  the GSAS category. Fellowships are listed below:
Yale-UCL Collaborative Exchange Program

John F. Enders Fellowships & Research Grants

John Morton Blum Fellowship for Graduate Research in American History

Summer Program Tuition Fellowship

Gruber Science Fellowship

GSAS Summer Language Reading Courses

Yale Club of Philadelphia Summer Research Fellowship

Yale Club of San Francisco Summer Research Grant

Summer Language Institute Fellowship (non-Yale Summer Session courses)

Summer Language Institute Fellowship (Yale Summer Session courses)

Franke Interdisciplinary Research Awards for Graduate Students
The Graduate School also coordinates applications from graduate students to the German Academic Exchange (DAAD) and the U.S. Student Fulbright program.