GMAT Registration – Graduate Management Admission Test or GMAT is a management entrance exam for admissions to business schools. The exam is conducted around the year and candidates have the flexibility to take the exam on any day depending on the availability and time slot. With the number of GMAT applicants increasing year by year, finding the preferred slot and date becomes more difficult each subsequent year.
Graduate Management Admission Council or GMAC conducts GMAT exam, an exam which is the most trusted, proven and well-understood predictor of academic success. The GMAT exam is designed to test skills that are key to business and management programs. It assesses analytical writing and problem-solving abilities, along with the data sufficiency, logic, and critical reasoning skills that are vital to real-world management success. The applicants need to make sure that at the time of booking the exam slot, the preferred test center is also available on the chosen date.
In this article, GMAT aspirants can find information on GMAT registration process, eligibility conditions, exam pattern, centers and much more.

One of the most important study abroad exams which international students have to appear for  to go overseas for higher studies.
GMAT Registration – About GMAT Exam
The GMAT exam, used by more than 2,100 institutions and universities around the world, is backed by more than 60 years of testing expertise and decades of peer-reviewed research, including hundreds of validity studies in the last 10 years alone. GMAT is designed to test skills that are highly important for business and management programs. It assesses analytical writing and problem-solving abilities, along with data sufficiency, logic, and critical reasoning skills that are vital to real-world business and management success. GMAC recommends applicants to register two to three months prior to the preferred test date, although, they may register up to six months in advance.
Steps to Schedule the GMAT Exam:
Gathering information – The applicants must have information regarding application deadlines in the chosen business school, location-specific regulations, special scheduling instructions (in case of disabled students) and the idea of how long it would take to prepare for the exam.
Build a timeline – Build a timeline based on the first step and add extra time if you are registering by mail or paying by personal check or money order or add extra time if you are applying for testing accommodations.
Scheduling for the exam (more details in the "Registration process" mentioned below) – The applicants can schedule for the exam in four ways: Phone, Mail, Fax and Online. Pay exam fee and review information before applying.
Why take the GMAT exam?
Demonstrate commitment, motivation, and ability to succeed in business school.
Measures critical thinking and reasoning skills important in business school.
Increases your earning potential and open a world of opportunities.
Business schools trust the GMAT exam to inform admission decisions.
The GMAT exam structure is divided into Quantitative Reasoning, Verbal, Integrated Reasoning, and Analytical Reasoning.  The exam takes just under 3 1/2  hours to complete, including two optional breaks. Brief details on the question types, a number of questions and score range in each section in the GMAT exam is mentioned in the table provided below.
GMAT exam structure
Test Section

Number of Questions

Question Types

Score Range

Analytical Writing
30 minutes
1 question
Analysis of an Argument
0-6
(in 0.5-point increments)
Integrated Reasoning
30 minutes
12 questions
Graphics Interpretation, Table Analysis, Multi-source Reasoning, Two-part Analysis
1-8
(in 1-point increments)
Quantitative Reasoning
62 minutes
31 questions
Data Sufficiency, Problem Solving
6-51
(in 1-point increments)
Verbal Reasoning
65 minutes
36 questions
Reading Comprehension, Critical Reasoning, Sentence Correction
6-51
(in 1-point increments)
GMAT Registration – GMAT Eligibility
Age Requirement and Qualification Sought:
The candidate must have completed 18 years of age before appearing for the exam.
There is no upper age limit of the candidate to appear for the exam.
If the candidate is between 13 to 17 years old, they should have permission in writing from their parents.
GMAC has not announced any official statement regarding qualification required to appear for GMAT.
Candidates who wish to enroll for an MBA programme must have obtained a graduate degree in any discipline from a recognized university.
Have you given your IELTS yet? Read the article – IELTS Preparation
GMAT Registration – Step by Step Registration Process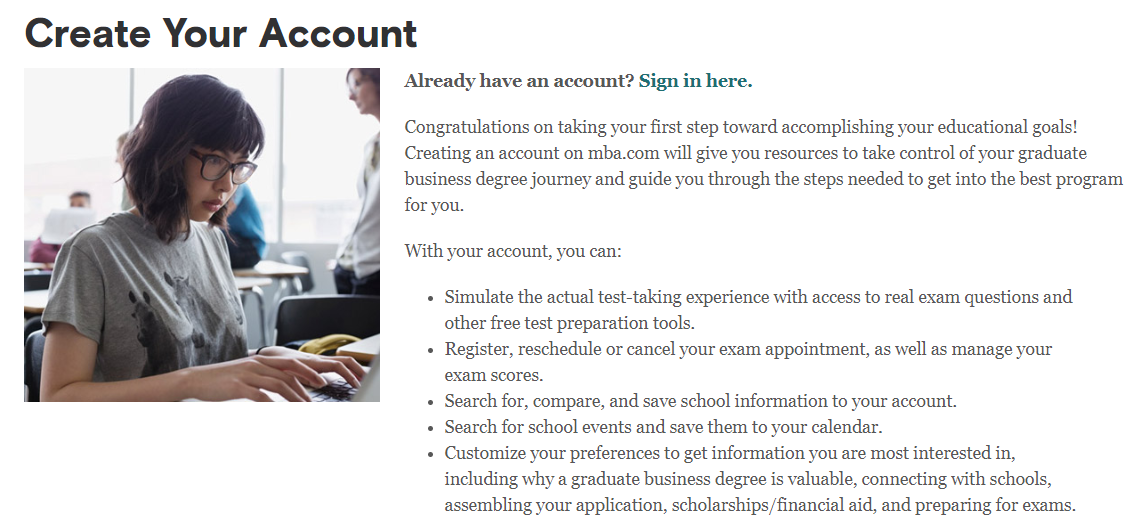 Step-by-Step process to register for GMAT examination 2019:
The first step towards online registration is to visit the authorized GMAT official website's Registration page.
Once the candidate has logged on to the GMAT official website, they will have to fill in the required basic information such as name, address etc.
The candidate will have to create an ID and password. To choose test centre, visit the link here.
The next step will be making online payment of the application fee, which is USD 250. The candidate can make online payment through credit card, debit card, net banking; whichever is suitable for the candidate.
After the completion of these steps, the candidate can log in and select the date and place to take the exam.
GMAT Registration – Exam Centres
For Indian aspirants – GMAT exam is conducted on demand, around the year in 17 of the following GMAT test centers in India: Hyderabad, Visakhapatnam, Delhi, Ahmedabad, Ranchi, Bangalore, Kochi, Indore, Pune, Nagpur, Mumbai, Chennai, Chandigarh, Lucknow, Coimbatore, Jaipur, and Kolkata.
GMAT Registration  – Rescheduling or Cancelling GMAT
There is a fee to reschedule or cancel your exam appointment based on the following rescheduling and cancellation deadlines. Given below are the rescheduling and cancellation Deadlines
More Than 7 Calendar Days Before Your Test Day
Reschedule: US 60 (payable each time on reschedule)
Cancel: Refund US 80
7 Days or Fewer Before Your Test Day
Reschedule: Pay full registration fee
Cancel: No refund
By giving GMAT and obtaining a great score can fetch you position in one of the Top Universities in Canada.
GMAT Registration – FAQs
Q. How much does it cost to take the GMAT?
A. GMAT exam costs US 250. If the candidate wants to cancel or reschedule the exam then they will be charged for it. The cancellation fee for the GMAT exam is US 80 and for rescheduling, the candidate has to pay an additional fee of US 250.
Q. What is the difference between the GMAT and the GRE?
A. GMAT is a standardized test for getting into a top business school across the globe. Certain business schools have also started accepting GRE. The GMAT comprises of a Quantitative and a Verbal section like GRE. Apart from this, in GMAT exam, two sections are combined to give a composite score of 800.
Q. What does the GMAT™ exam measure?
A. The GMAT exam measures higher-order reasoning skills. The applicant needs to have basic English-language and math skills. However, the test measures the ability to reason with these skills.
Q.  How can I prepare to take the GMAT™ exam?
A. The applicants should prepare until they are comfortable with the test question formats and timing. It is critical that they understand what types of items to expect and how to pace yourself. Preparation time is individual but may take seven weeks or more. GMAC offers free GMAT Official Starter Kit + Practice Exams 1 & 2 to all who register with an account on mba.com as well as additional Official GMAT prep material are available.
Q.  What if I need to reschedule my exam?
A. The applicants may reschedule their exam online or phone. Fees are applicable. Check out "Reschedule or Cancel GMAT" section in the article.