MBA in UK – UK (United Kingdom) has got some of the best MBA courses in the world that are recognised across the globe. MBA degrees obtained from the UK have helped a lot of international students attain their dream jobs in the field of business management. Pursuing an MBA degree from UK can cost a lot to international students. However, most of the UK universities offer scholarship opportunities, grants and other financial aid to meritorious international students who display excellent academic records including high scores in study abroad entrance exams like GMAT and GRE. 
In this article, you can find out information on top MBA colleges, course curriculum, MBA costs, post MBA salary, jobs and much more.
MBA in UK – Why pursue MBA from UK?
The UK is one of the leading economies in the world and the top UK universities offer a chance to meet powerful business leaders during the course programme, events and seminars. Most of the universities in the UK have great tie ups with industries in diverse business sectors, thus, giving students great opportunities during projects and internships. The faculty members in top UK universities have significant professional experience in various fields and students gain from that pool of knowledge to come up with their own ideas and theories to solve a problem. 

MBA in UK – List of top MBA colleges in UK
Students should check out course curriculum, MBA admission deadlines, location, MBA fees at  the top MBA colleges before applying to any specific one. 
The following list shows the most popular MBA Universities in UK:
London Business School (QS Ranking – 4th)

Said Business School, University of Oxford (QS Ranking – 12th)

Judge Business School, University of Cambridge (QS Ranking – 21st)

Cass Business School, City University, London 

Alliance Manchester Business School, University of Manchester 

University of Warwick 

Imperial College, London
Let's explore some important details about two of the top MBA universities in the UK as listed above.
London Business School
The school has a profound effect on the way people do business today. Located in the heart  of London, the London Business School has an excellent record of academic success. It offers a wide variety of programmes such as Masters in Management, Masters in Analytics and Management, Masters in Financial Analysis, Masters in Finance, MBA, Executive MBA, etc.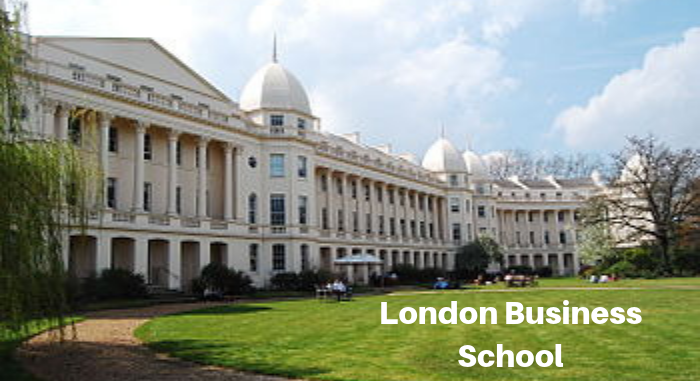 The MBA course duration at London Business School is generally of 15, 18 or 21 months and the next MBA programme will start from 17 Aug 2020. It is a full-time degree course in which applicants need to have a working experience of around 3-15 years to be eligible to apply. The fees for the MBA program is GBP 82,000 including student association fee of GBP 240. 
To know everything from top university, courses, cost of living, etc in the UK, read our "study in UK" article.
University of Oxford
Oxford's MBA degree is a one-year programme which trains students to deal with a complex and increasingly connected world with ease. It has a wide variety of individuals from non-business backgrounds and they participate in a lively intellectual community. Saïd Business School at Oxford offers a challenging degree through an engaged community of faculty and students. The length of the courses are 12 months. The number of intakes for MBA programme at Oxford is around 320. On an average, 1413 students apply at Said Business School per year.
MBA application deadline along with the interview schedule is given in the image below.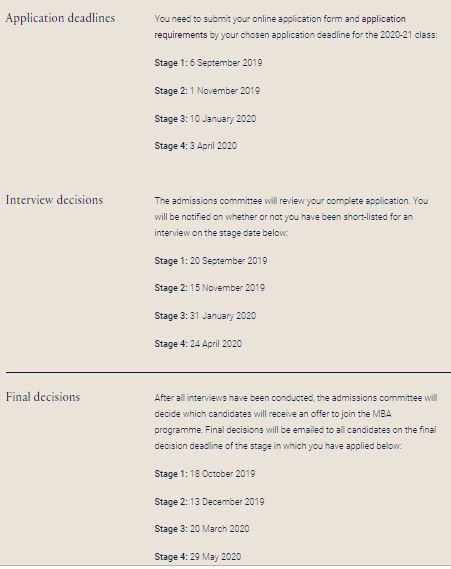 MBA application deadline at Said Business School, University of Oxford
The course fee for the 1-year MBA programme is around GBP 59,490. In 2018-19, the class size was 315 and there were students from more than 62 nationalities. 39% of the total students were female. On an average, students had work experience of 5 years before enrolling in the MBA course.
MBA in UK – Cost of MBA in UK
On an average, the cost of MBA is GBP 10,000-15,000 with top MBA programmes in Oxford and Cambridge costing up to GBP 45,000. Some of the universities offering low cost MBA programme are listed below:

University of Bedfordshire

University of Boston

Cardiff Metropolitan University

Canterbury Christ Church University

De Montfort University

University of East London

University of Gloucestershire 

Glyndwr University

Leeds Beckett University

University of Suffolk

University of Wales, Trinity St David
MBA in UK – MBA curriculum, MBA Salary, Post-MBA Opportunities
The MBA curriculum (for eg. in Said Business School) is divided into orientation course, core course, elective, London CAP, Leadership Launch, Language learning, Summer options, International exchange, Business project and Capstone. To check the core course, visit the link here. 
Eligibility Conditions:

An applicant shall be eligible if they fulfil the following conditions:
An undergraduate degree or equivalent qualification

A minimum of two years work experience 

Have ability to work in multicultural teams and have an international outlook
To start an application, visit the link given here.
MBA applicants should submit the following documents during the online application process:
1. An application essay – It should cover the following points: 
a. Post-MBA goals
b. Prior experience
c. How studying at London Business School contribute towards overall professional growth?
d. Any other information that the admission committee should know.
2. CV
3. Two referee details
4. GMAT/GRE score
5. English language certification
Application fee (around GBP 200 has to paid for the application)
The average salary for an MBA degree holder graduating from a top college in the UK are listed below:
| | |
| --- | --- |
| Business School | Average (USD) |
| London Business School | 105,673 |
| Said Business School | 93,039 |
| Imperial College | 118,324 |
| University of Cambridge | 124,712 |
| Cranfield University | 163,798 |
| Warwick Business School | 110,264 |
There are many internships and post MBA job opportunities available in the UK but MBA degree holders get lesser time (based on their visa) to apply for jobs. They can attend job fairs in the universities to get in touch with employers and others who have attained jobs after passing their MBA degree from top colleges in the UK.
MBA in UK – Top Online MBA Programmes from UK
The UK is one of the most popular countries in the world for undertaking a full-time or executive MBA but is now also proving to be a leading provider of distance and online MBA options. The following universities in UK offer online MBA programs:

Imperial College London

University of Warwick

University of Manchester
Imperial College Business School is ranked #1 according to QS ranking in UK for online MBA degree programmes. The programme intake happens in the month of September of a given year. Online MBA fees cost up to GBP 36,500. The online MBA programme benefits are: 
Highly ranked course

Cutting edge technology used for developing online programmes

Online community-based approach allows study flexibility

It teaches innovation and use of new technology to develop practical solutions to real world issues.
MBA in UK – Scholarships to support MBA degree
UK Government and the top universities offer an extensive range of scholarships and fellowships for international students. This is open for all prospective students wishing to pursue a full-time study programme in any stream of Management.
There are many prestigious scholarships to study MBA in UK which are listed below:
Chevening Scholarship

Rhodes Scholarship

Erasmus Mundus

Felix Scholarship

Charles Wallace India Trust Scholarships

Hornby Scholarships

Inlaks Scholarships
MBA in UK – FAQs
Q. How much does it cost to pursue an MBA in UK?
A. One-year MBA will cost £10,000 - £15,000 on average, with MBA programmes at top business schools such as Oxford and Cambridge potentially costing up to £45,000.
Q. Is GMAT required for admission into MBA programmes in UK?
A. A number of business schools require students to take the Graduate Management Admission Test (GMAT) test for admission. You need good preparation for obtaining good GMAT scores as per the university requirements in the UK.
Q. What are the entry requirements for pursuing MBA in the UK?
A. Generally, a minimum requirements for MBA admission are:A minimum 3 years of full-time work experience
A Bachelor's degree or equivalent
GMAT
IELTS score of at least 6.0-6.5
Q. Which country is best for pursuing MBA abroad?
A. Generally, the following comes in mind when you talk about pursuing MBA overseas: US, UK, Canada, Australia, Singapore