Reading Time:
4
minutes
MCAT dates are one the most crucial aspects of preparing for MCAT exam. Knowing MCAT dates and score release dates help students to adopt a systematic approach towards preparation for MCAT. This standardised multiple-choice medical entrance test for the US and some Canadian medical schools assesses an applicant's understanding of the concepts and principles that are prerequisite to the study medicine. It is held at least 2-3 times a month every year. This year's registration for January-September 2019 MCAT exam session is already open. The candidates should consider the following questions before appearing for this exam.
Are you planning to apply for med school after your fourth year of college, or are you planning on taking a gap year?
How much preparation time do you think will be needed?
Have you completed all the courses that will be on the MCAT?
By the third year of college, one should figure out the best time to take the MCAT exam. Ideally, an applicant's can choose a MCAT dates that allows him/her to have plenty of time to study. By the time the student takes the exam, he/she should have taken the subjects needed to be eligible for the medical entrance test in his/her high school. The subjects that must be a part of the curriculum of the aspiring students include:
Biology
Physics
Organic and inorganic chemistry
Biochemistry
Psychology
Sociology
The best way to prepare for the MCAT is to develop a strong study plan. The new MCAT has no prerequisite courses that applicants have to take specifically. However, the above-mentioned subjects should help applicants to prepare for each section of the medical entrance exam:
Biological and Biochemical Foundations of Living System
Psychological, Social and Biological Foundations of Behavior
Chemical and Physical Foundations of Biological Systems
You can only prepare the syllabus of MCAT if you are aware of MCAT Dates Plan. Below, you can find the 2019 MCAT Dates and when the MCAT score release dates are.

MCAT Dates – Key MCAT Dates and Score Release Dates
Applicants need to login into the MCAT Registration System to select the MCAT dates and location. All dates are subject to change. For current information about test dates and locations, visit the MCAT Registration System and sign up. The international sites follow a different testing schedule for 2019 depending on the test location.
Click here to check for International centres and MCAT dates for this medical entrance test.
2019 MCAT Dates and Score Release Dates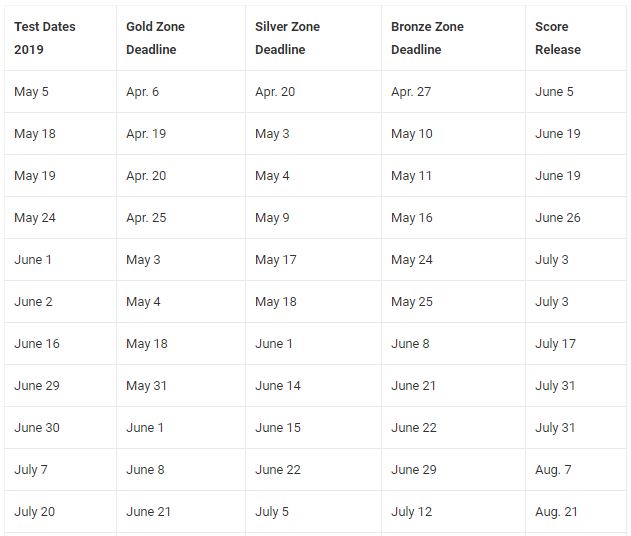 MCAT Dates –  Study Plan for the MCAT Exam
In order to prepare and score high in this exam, the applicants should keep in mind the following six key points while preparing for the MCAT exam.
The applicants must research well to find everything about the MCAT exam.
The applicants need to evaluate their capabilities and knowledge and determine how much prepared are they for the entrance test.
The applicants should try to collect free and low-price study materials to prepare for the exam.
Also, a study plan must be prepared by the aspirants.
The key to success is to study and practice.
The applicants must keep enough time with them for final practice or rehearsal.
For detailed explanation on each of the above points, read AAMC- MCAT Official Guide
MCAT Dates – MCAT Test Day
Guidelines for what can be discussed on test day:
Applicants can comment on their general exam experience such as test centre conditions or how they felt about a particular section, such as the biological sciences section.
Applicants cannot describe any passage or exam topic, question, incorrect response, correct answer, or graphics in greater or more specific detail. This includes discussing or disclosing a topic list or describing the frequency or order in which such topics appear. Applicants can also not do the following:

Outline the steps or process to answer a question
Speculate about which passages are field-tested or experimental items
Assist anyone else in doing any of the above

What to expect in a Pearson VUE Centre

Identification document check
Signature check
Applicants will be assigned locker to keep their belongings
Applicants will then be allowed to enter the exam room and appear for the test
YOU MAY ALSO LIKE –

Top Exams – GRE and GMAT & Related Articles below
Top GRE/GMAT related Articles

Read Now – Click below

GMAT REGISTRATION – HOW TO REGISTER FOR THE GMAT EXAM?

 

GMAT PREPARATION – TOP GUIDE FOR GMAT PREPARATION

 

GRE SYLLABUS – TOPICS COVERED, EXAM PATTERN & STRATEGY

 

MBA SCHOLARSHIP – THE COMPLETE LIST, ELIGIBILITY, APPLICATION PROCESS, AWARD DETAILS

 

GRE EXAM – GRADUATE RECORD EXAMINATION (GENERAL TEST)

 

 

GRE PREPARATION – HOW TO PREPARE FOR THE GRE EXAMINATION?