Germany is one of the top study abroad destinations in the world. 46 of its universities are ranked globally based on QS World University Rankings. Germany has a long and rich history and vibrant community which provides students a great living and studying experience. According to recent international student surveys, around 40% of students get attracted to studying in Germany because of the low or no tuition fees at German Universities. It has affordable accommodation and plenty of job opportunities after you graduate. You get a chance to learn a new language and merge into a new international community.
In this article, you will get the latest information on the top international German universities, top courses, application and visa process to get admission.

German Universities – Top Universities in Germany in 2019
There are over 380 German Universities offering over 17,000 course programmes to prospective students. Every major German city has at least one university ranked among the world's best. Based on QS Rankings 8 German Universities appear in the global top 150. Below, you can find the updated list of top universities in Germany 2019.
List of Top Universities in Germany in 2019
Ludwig-Maximilians Universität München

Ruprecht-Karls-Universität Heidelberg

KIT, Karlsruher Institut für Technologie

Humboldt-Universität zu Berlin

Freie Universität Berlin

Rheinisch-Westfälische Technische Hochschule Aachen

TU Berlin

Eberhard Karls Universität Tübingen

Universität Freiburg
TU Munich
Featured as one of the highest-ranked universities in Germany in the QS World University Rankings, Technical University of Munich (Technische Universität München), also known as TUM is a member of TU9, an association of nine of Germany's most prestigious technical universities.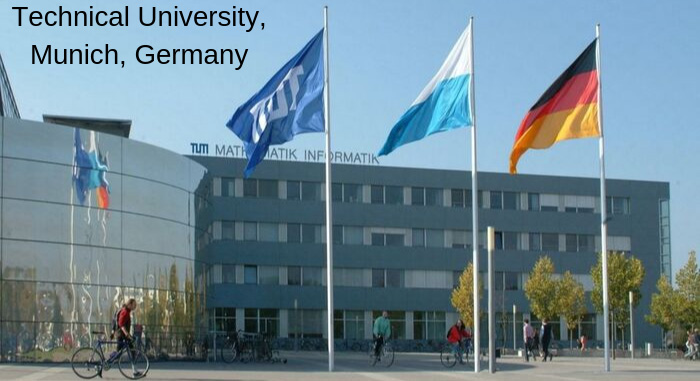 It has 14 academic departments and 40,124 students, of which 24% are international. There are 6,105 academic staff in the university. It ranks globally at 55 by QS World Ranking based on:
Ranking Criteria
Overall Score: 72.3

Academic Reputation: 80.2

Employer Reputation: 99

Faculty Student: 89.1

Citations per Faculty: 26.9

International Faculty: 60.6

International Students: 76.8
Choose your degree programmes at TU Munich here. There are 162 degree programmes. International students can choose from a plethora of course programmes.TUM offers 3-6 week Summer Schools for international students interested in obtaining a master's degree at TUM. Health insurance is mandatory for all students in Germany. A proof of sufficient medical coverage and of regular contributions to an insurance plan must be submitted in order to enroll at a German university.
Ludwig Maximilians Universität München
As of 2017/18, 8,515 students were enrolled in the university. The university budget for 2017 was EUR 850 million. LMU Munich has a great academic profile ranging from the humanities and cultural sciences, law, economics, and social sciences to medicine and natural sciences. The University is divided into 18 faculties and has Germany's finest library systems. 
Living Costs
A basic outline of what you should budget for monthly living costs for living in Munich:
Rooms in private housing including utilities: EUR 350-600

Rooms in university housing: EUR 300 or EUR 370 including utilities

Health insurance: EUR 80

Meals: EUR 200 – EUR 250

Mobile phone: EUR 15 – EUR30

Public transportation: EUR 33
Housing will be one of the primary expenses in Munich and it comes in a wide range of types and prices.
Tuition Fees
There is no tuition for standard programs but all students are required to pay a fee of EUR 12,940 for student services (EUR 62) and the basic "semester ticket" (EUR 67) entitling students to travel within the Munich.
Employment
Students from the EU or EEA may work like German students do, while other international students may work 120 full or 240 half days in a year.
Accomodation/Housing
The average rent for rooms on the private market is about EUR 400 per calendar month. Rooms in shared apartments and single apartments cost between EUR 400 and EUR 650, depending on the location and facilities. Rooms in student housing can cost between EUR 270 and EUR 350
For visa purpose to travel to Germany and to Munich, click here.
Ruprecht-Karls-Universität Heidelberg
The University believes in the strong training of its students and young researchers from the Bachelor phase onwards so that they can take up academic and social responsibilities. With a spectrum of about 180 degree programmes, the Heidelberg University offers a unique variety of subject combination options in Germany. The full spectrum of disciplines encompasses the humanities, law and the social sciences alongside the natural and life sciences, including medicine. It ranks 66 in the world, 3rd in Germany and 19th in Europe according to QS world rankings.
Currently there are 29,000 students enrolled into the university and 5,402 are international students. 11 professors of Heidelberg University have been awarded with Nobel Prize. The Gottfried Wilhelm Leibniz Prize of the German Research Foundation is the most prestigious research award in Germany. 19 of the recipients of this prize were affiliated to the university. There are 26 DFG funded Collaborative Research Centers and 12 research and training units each. 
Living costs
Students should reckon with monthly expenses totalling at least EUR 800 to 1,000. They can have modest lifestyle with this expense in Heidelberg city. Books and study materials can cost up to between EUR 250 and EUR 350 and more per semester. 
Tuition Fees
A fee of EUR 170 is charged for studying at the University of Heidelberg (special tuition fees are charged for continuing education and existing non-consecutive Master's programs).
Accomodation/Housing
Heidelberg University has four guest houses for visiting scholars and their families. There are apartments of various sizes (1-4 rooms) as well as handicapped-accessible apartments. All of the apartments are fully furnished.
German Universities – Top Preferred Courses by Indian Students in Germany
The following course subjects are quite popular in Germany among the international students.
Doctors and dentists are valuable professionals throughout the entire world. It's one of the highest paid degrees in Germany. The yearly average salary for a lawyer is EUR 74,013. Industrial Engineering is the third highest paying degree in Germany which pays EUR 70,288 per year. Mathematicians are paid really high as they deal with the complexities of all that needs calculations.They get an average yearly salary of EUR 68,241. Physics, chemistry, and biology are highly reputed courses. People working in these natural sciences fields gets annually paid as EUR 66,954.
Gisma Business School – GISMA Business School, the German International Graduate School of Management and Administration, offers globally recognised management education and gives students the opportunity to study in an international setting. The courses offered at the Gisma Business School are: Agribusiness, Business and Management, Finance and Accounting, Healthcare, HR, IT, Language, Marketing, and MBA.
Following courses can be applied for 2019-20 session:
German Universities – Admission Process
Steps to apply to study in German Universities:
Choose a university

– Students should choose a university to study in Germany after a thorough research. DAAD database can help students to find English taught programmes.There are various opportunities to study in Germany in English. 

Check admission requirements

– For prospective undergraduate students, a high-school diploma, school-leaving certificate or university entrance exam result is required. Students with qualifications from outside Europe may have to sit the

Feststellungsprüfung

entrance examination after attending a preparatory Studienkolleg. For Masters and PhD programmes students are advised to 

Arrange Finances

– Generally, one needs to show around EUR 8,700 per year while applying for German student visa which can cover living costs etc.

Take a proper international health insurance, apply for university accommodation or private ones and apply for German student visa.
German Universities – Student Visa 
An entry visa for study purposes is generally issued for three months. If you will be staying longer than three months, you must go to the Foreigners Office to apply for a residence permit after arriving in Germany. If you have received university offer letter, then you should follow the instructions given below to apply for Student Visa (Visum Zu Studienzwecken).
You should apply for your visa at the German Embassy or Consulate in your country. Then you need to schedule an appointment for a visa interview. On the day of the interview, you should submit visa application documents and perform well on the interview.

Pay EUR 75 fee for Germany student visa application. Student applicants have to pay the visa fees by a bank transfer. 
The following documents have to be submitted while applying for the visa:
Completed application form

Valid passport

Two photographs

Offer letter from a German university

Transcript of academic record

Certificate of German language proficiency

Proof that you have sufficient funds to support your study and living while in Germany (approx €8,700 per year)

Health insurance certification

Declaration of authenticity of documents submitted.
On arrival in Germany, you will have to register with the local Alien Registration Office (Bürgeramt or Einwohnermeldeamt) within two weeks time. Submit the following documents for getting the residence permit:
Proof of valid private or public health insurance

Certificate of enrolment from university

Proof of sufficient finances 

Valid passport

Current visa

Certificate of health 

Your tenancy agreement

Biometric passport photos 
Interested to study in Germany? Check out the German Courses  here.